Guitares classiques/ Classical Guitars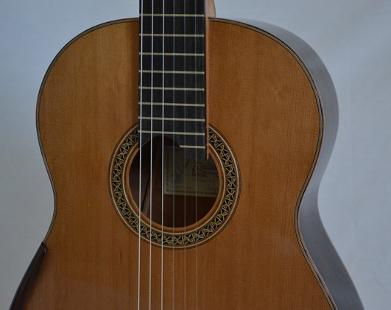 Introduction
Je fabrique des guitares classiques de haut de gamme dans mon atelier de Québec, au Canada.
Je vous invite à visiter mon site. Si vous avez des questions, n'hésitez-pas à me contacter en allant sur la page "Contact" de la barre de menu.
I build hand made,concert level classical guitars in my workshop in Québec City, Canada.
Feel free to look through my portfolio for a sample of my work. If you have any questions, please follow the "Contact" page on the site menu.
Testimonials/ Témoignages

"Des basses riches et puissantes mais qui demeurent équilibrées vis-à-vis le registre plus aigües de l'instrument. Les aigues offrent un son clair et distinctif qui jumelés aux basses offrent une très belle séparation des voix" . Pierre Tremblay, Montréal, Canada

"My new cedar double top guitar Naomi is wonderful! With a 635 mm string length and smaller dimensions she is a dream to play. The guitar has an extremely quick response, a wide range of tone colors, and great resonance (the treble notes ring forever). The tone is warm, clear and projects to the back of the hall. Even with the smaller dimensions, the guitar has great volume. I've performed on Naomi in solo and chamber concerts with great success. I've also played this guitar in recording sessions. The engineers comment on how easy it is to capture the great tone. Thank you Patrick for making me a superb concert instrument that accommodates my special request for a smaller instrument. I'm looking forward to a long future practicing, playing, and performing on this guitar ". Julie Goldberg, Chicago, USA